Skivarps Gästgivaregård
Adresse
: Landsvägen 32, 274 50 Skivarp (
Vis kort
)
Område: Skurup
Hotel | Do as Carl von Linne '...

... .. stay at Skivarps Inn! Close, 2,5 km, to the see and the nice long beaches this historic inn dated from 1680´s is a nice place to spend a few days in. Newly renovated rooms in 2007, including 5 with own shower and toilet.
Welcome to Skivarps Inn!

It's something we really mean -please feel welcome and enjoy good food and good service in the historic setting! This is one of Skånes oldest inns, and there is much history behind these walls - take note of the atmosphere!
Spend a few days here in our completely refurbished hotel, please stop by and take a bite, take the family for Sunday dinner or combined with a some golf or biking - relax and let us pamper you!
It is our desire that all our guests really feel welcome and leave the daily stress behind. The sea with all its potential is 2.5 km away and you can pick and choose between different golf courses nearby. We also help to tailor various activities.
The garden is unique - even something as Carl von Linné noticed. Here you will find Holly, Mulberry Tree, Ginko Tree and a huge Caucasian wingnuts. During the summer months we open the terrace in our garden where you can take breakfast or eat your dinner.

If you are looking for a Hilton standard - this is the wrong place, but if you are looking for a smal. friendly, cosy family hotel with history behind the walls - this is the right place!

Romance Packages can be booked for each room. Includes one bottle of sparkling, flowers, fruit and chocolates in your room. Price 399, - for 2 people
In our walled house on the South Coast of Skane we offer our guests a serene living with high standard and with great possibilities for activities in the nearby region. You are only walking distance from an excellent golf course, close to the beach with possibilities for bathing and you can bike on excellent bicycle lanes.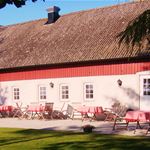 The Lillehem Country Hotel with sound environmental thinking, in the midst of the southern coast of Sweden, provides a relaxing and lovely, high standard accommodation in genuine rural surroundings with an excellent location close to the South Baltic Sea and the shoreline meadows.