Albertsgården B&B
Adresse
: Farhultsvägen 408, 263 93 Norra Häljaröd (
Vis kort
)
Område: Höganäs & Kullabygden
Faciliteter og services
Faciliteter

Spis og drik på stedet
Fresh,rustic,calm and cosy –country surroundings Kullabygdens B&B is close to Skälderviken, Arild and Mölle. You can easily get to the nearest beach, it will only take you a few minutes by car, or you can borrow bikes from us. The surroundings are perfect if you appreciate beautiful nature; you are never far from spectacular nature reserves with hiking paths and bicycle routes, such as Kullaleden and Kattegattleden. There is a lot to see and do in the surroundings; golf courses, fishing opportunities and a rich wildlife. If you like shopping there is only 20 minutes by car to the big town of Helsingborg. A well-lit bicycle path will take you from our B&B to Jonstorp village where you can find a very nice restaurant with local dishes.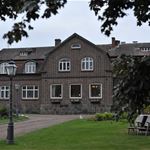 Welcome to a wonderful countryside environment on the Kulla peninsula. STF Hostel Jonstorp/Kullabygden is the perfect place for everything from individual accommodation to business conferences, family get-togethers, training courses and sports groups. Here you can meet people and enjoy yourselves all year round. STF Hostel Jonstorp is a good alternative for "Hyr Hela Huset" (rent a hostel).
Small, private hotel built at the end of the 19th century in a central location by the river Rönne.