Malmö´s Themed playgrounds
Adresse: Malmö
Vis kort
Adresse: Malmö

Space Playground, fairytale playground and spider playground there are some examples of the 20's themed playgrounds located around Malmö
Almost twenty of Malmö City´s municipal playgrounds have qunique, custum-built attractions based on particular themes. The aim is for the playgrounds to arouse children´s curiosity and stimulate their fantasy - by presenting exciting, challenging and new activities.
Show more
Hotel
Afstand: 679 meter
scandic Stortorget been sensitively renovated and is now one of Malmö's most contemporary and personal hotels. A very central location just a stone's throw from the Central Station, airport coaches and Öresund rail link terminal.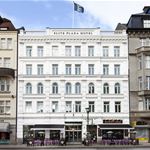 Hotel
Afstand: 496 meter
The beautiful facade is originally from the turn of the last century and with it's unique architecture it contributed to the nickname "The Little Riviera". Behind this classic front you will find a completely newly built, modern hotel of the highest standards.
Hotel
Afstand: 703 meter
Hotel Scandic Triangeln has an excellent location in central Malmo on the city's largest shopping street. Here, you´re within easy reach of all that Malmo has to offer.