Törringe church
Adresse: Törringe kyrkoväg, 233 92 Svedala
Vis kort
Adresse: Törringe kyrkoväg, 233 92 Svedala

Has its oldest parts from the 1100s. The porch was added in the late Middle Ages along with the trappgavlade west tower. The cemetery is surrounded by a medieval city wall.
Törringe church located in Törringe about 7 miles west of Svedala. It belongs Svedala parish in the diocese of Lund.

Here's communion silver from St. Mary's Church in Tartu (Dorpat) since the early 1700s.

The church is built of stone in the Romanesque style. In the 1400s the creation vault, porch and tower.
A medieval triumphal crucifix in late Gothic style is preserved.
The pulpit dates from the late 1500s. Altarpiece of about 1750 was made by Johan Ullberg.
Show more
Hotel
Afstand: 11,2 km
Vandrerhjem
Afstand: 9,5 km
You will find this hostel at the countryside, Close to both Malmö and Copenhagen. Bruksparken is the perfect place to arrange parties, meetings and it is suitable for groups.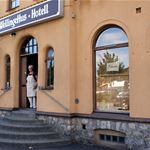 Hotel
Afstand: 9,9 km