Friskis & Svettis's outdoor training facility
Adresse: Västerbrogatan 2 Vellinge
Vis kort
Adresse: Västerbrogatan 2 Vellinge

Outdoor traing with tires, sledge hammers, rough rope and logs, etc.. Guided Workouts Thursdays at 18:00
Place: outside Vanningen in Vellinge. Follow the paved road outside the gym 20meters towards the soccer field.
Every Thursday at 18:00 during June and July.
More information at www.vellingefriskissvettis.se.
Show more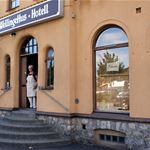 Hotel
Afstand: 644 meter
Hotel
Afstand: 3,5 km
WE ARE ALL GUESTS AT ÄNGAVALLEN. THE COUNTRYSIDE IS OUR HOST AND WE ARE YOUR´S. Great food in lovely rural surroundings. Culinary & organic.
Vandrerhjem
Afstand: 3 km
You will find this hostel at the countryside, Close to both Malmö and Copenhagen. Bruksparken is the perfect place to arrange parties, meetings and it is suitable for groups.