Buljong
Adresse: Östra Mårtensgatan 6, 223 61 Lund
Vis kort
Adresse: Östra Mårtensgatan 6, 223 61 Lund

Buljong is a soup spot in Lund. Eat on site or buy to go!
Show more
Om denne aktivitet
Kontaktperson email

Hjemmeside

Eksterne links

Åbningstider
Hotel
Afstand: 523 meter
Hotel Concordia is a 4 star hotel, certified by Visita. As our guest you will stay comfortably in a modern, centrally located and newly renovated cultural building that was originally built 130 years ago. The hotelbuilding is located in the centre of Lund that dates all the way back to the 11th century.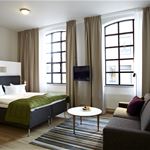 Hotel
Afstand: 598 meter
The More Hotel opened in August 2012 and The property used to be old engine sheds and was build in 1906 as a service station for locomotive. . In the restaurant for example, you will find two huge vaulted window were the old locomotives used to ran. The Hotel is 10 minutes from Mårtenstorget.
Hotel
Afstand: 83 meter
StayAt Lund is located in central Lund, just 150 metres from the University Botanical Gardens. It offers rooms with private, modern kitchen facilities and free wired Internet access.