The amber museum
Adresse: Södra Mariavägen 4, 236 35 Höllviken
Vis kort
Adresse: Södra Mariavägen 4, 236 35 Höllviken

Amber stones and exhibitions in a unique environment
The Swedish Amber Museum is situated on the best place in Sweden to search for amber. Along the 20 km long sandy beaches everybody can go "amberhunting" and collect the Gold of the beach. It is built in a historic environment behind a rampart dated from the Viking Age.

The museum is built of old material like wrecks from the beach and old fishing houses. It includes a wintergreen garden inside and green roofs all over.

Besides the permanent amber exhibition the museum also displays exhibitions about our nature- and cultural -history. Close to the parking area we have varied exhibitions and right now it´s about marine pollution in the world and art made from beachcombing.

During 50 years the museum has became a popular destination for people from all Europe and the latest years many guests from the middle east and China find their way to us.

We have had travelling exhibitions in the US together with a material from the Jurrasic Park movie in the 90-ties.

It is a small museum but well worth a visit.
Show more
Om denne aktivitet
Telefon nummer (booking)

Kontaktperson email

Hjemmeside

Åbningstider

May 15 -September 15 daily 11 a.m - 5 p.m June 15 - August 15 daily 10 a.m - 6 p.m Other parts of the year, Saturdays at 11 a.m -3 p.m , or by appointment.

Pris

Adults 25 SEK, children 10 SEK
Vandrerhjem
Afstand: 2,5 km
Lotsvillan has a fantastic location by the ocean and Falsterbo-peninsula's beaches as its closest neighbor. Welcome to this cozy accommodation!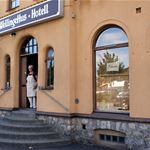 Hotel
Afstand: 8,2 km
Hotel
Afstand: 5,4 km
WE ARE ALL GUESTS AT ÄNGAVALLEN. THE COUNTRYSIDE IS OUR HOST AND WE ARE YOUR´S. Great food in lovely rural surroundings. Culinary & organic.