Västra Vemmerlöv's church
Adresse: Västra Vemmerlöv, 23194 Trelleborg
Vis kort
Adresse: Västra Vemmerlöv, 23194 Trelleborg

Västra Vemmerlöv's church was built in during the early Middle Ages in a Romanesque style.
In the 1850s the church experienced a remodeling under Carl Georg Brunius command. The upper parts of the tower were changed and the vaults in the nave were demolished. Late medieval frescoes are preserved in the interior. The baptismal font is made of sandstone and has sculptured lions. It originates from the early Middle Ages.
Show more
Om denne aktivitet
Telefon nummer (booking)

Kontaktperson email
Hotel
Afstand: 8,6 km
WE ARE ALL GUESTS AT ÄNGAVALLEN. THE COUNTRYSIDE IS OUR HOST AND WE ARE YOUR´S. Great food in lovely rural surroundings. Culinary & organic.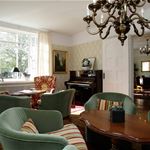 Hotel
Afstand: 4,5 km
A hotel with the uttermost possible comfort in a lovingly restored historic villa. You can still get a feel of the bygone era when the house was the residence of a wealthy shipping family of ship-owners. As a hotel, restaurant or conference guest you will enjoy this unique environment and exquisite cuisine as a whole. We have placed a lot of attention to the rooms to give them comfort and personal touch. Hotel DUXIANA Sweden has the highest sleeping comfort, in cooperation with DUX - Queen of the night. Our sauna is a welcome relaxation after a long day on the golf course or at work. We also have a heated outdoor Jacuzzi.
Hotel
Afstand: 4,5 km
Hotel Hansa is a 3-star hotel located in the heart of Trelleborg city within walking distance of both the bus terminal, the train and the ferries. The hotel has 42 non smoking guest-rooms with all conveniences. We also have a private garage.